Citrate therapy in children with inflammatory and non-inflammatory kidney disease: evidence and performance evaluation
Keywords:
mineral metabolism disorders, urinary tract infection, children, citrate therapy, combined citrates
Abstract
An increase in the prevalence of crystalluria, dysmetabolic nephropathy, and urolithiasis in pediatric population requires the search for optimal methods for drug correction of mineral disorders, and prevention of urinary tract infections (UTI).
Purpose: to study the effectiveness and safety of the combined phyto-citrate complex in children with recurrent UTI against the background of saline dysmetabolism.
Materials and methods. A randomized controlled clinical trial was conducted, in which 53 children aged 6 to 18 years old were diagnosed with Cystitis, Pyelonephritis of 1st and 2nd stage of activity, in the active stage of the disease, and with history of UTI. 33 children of the main group received basic standard therapy reinforced with a combined phyto-citrate agent (Uriklar). 20 children in the control group received only standard basic therapy. Patients in both groups were comparable in age, gender and duration of the disease. The course of therapy with the combined phyto-citrate preparation in the main group and the phytouroseptic in the control group lasted for one month.
Results and conclusions. The advantages of adding a phyto-citrate complex to the basic therapy of UTIs were revealed at the end of a one-month cycle of use in the form of positive trends and normalization of mineral metabolism parameters in terms of transport of salt, other clinical and laboratory data, and ultrasonography. Absence of UTI relapse within 2 months after discontinuation of therapy indicates an effective anti-inflammatory and anti-adhesive action of the phyto-citrate complex.
References
Voschula VI. (2006). Mochekamennaya bolezn. Etiotropnoe i patogeneticheskoe lechenie, profilaktika. Minsk: VEVER: 112–118.
Voschula VI. Lyish EYa, Stankevich SI. (2007). Infektsiya v etiopatogeneze mochekamennoy bolezni. Meditsinskie novosti.11: 113–118.
Harna SV, Vladymyrova IM, Burd NB ta in. (2016). Suchasna fitoterapiia: navch. posib. Kharkiv: Drukarnia Madryd: 580.
Dzeranov NK, Konstantinov OV, Beshliev DA, Golovanov SA, Drozhzheva VV. (2001). Rol biohimicheskih metodov v dinamicheskom nablyudenii i lechenii bolnyih MKB. Urologiya.1: 18;21.
Dziurak VS, Krykun AS, Kohut VV, Boiko AI. (2006). Patofiziolohiia tsytrativ ta yikh rol u vynyknenni kameniv u sechovykh shliakhakh. Zdorove muzhchyni.3: 98–107.
Kohut VV. (2007). Korektsiia hipotsytraturii ta hiperurykozurii v kompleksnii profilaktytsi povtornoho kameneut vorennia u khvorykh na shchavelevokyslyi nefrolitiaz. Dys. kand. med. nauk. Kyiv: 161.
Liulko OV, Stus VP, Dniprova OA. (2000). Zastosuvannia litolitychnoi terapii u likuvanni ta metafilaktytsi sechokam'ianoi khvoroby. Urolohiia.3: 76–82.
Pepenin VV, Spiridonenko VN, Komarevtsev OV, Belichenko SV. (2011). Rol tsitratnoy terapii pri lechenii uratnogo urolitiaza s pomoschyu maloinvazivnyih tehnologiy. Zdorove muzhchinyi.4: 140–147.
Profilaktika i lechenie mochekamennoy bolezni u vzroslyih. Obzor sovremennyih rekomendatsiy po vedeniyu bolnyih urolitiazom, razrabotannyih Evropeyskoy assotsiatsiey urologov (EAU) (Niderlandyi, 2008) (2010). Meditsinskie aspektyi zdorovya zhenschinyi. 4/2: 15–22.
Rukovodstvo Evropeyskoy assotsiatsii urologov 2013 po urolitiazu (sokraschennoe izlozhenie) (2013). Pochki.4: 44–54.
Tiktinskiy OL, Aleksandrov VP. (2000). Mochekamennaya bolezn. SPb: Piter: 379.
Shpot EV, Sultanova EA. (2012). Tsitratnaya terapiya mochekamennoy bolezni. Farmateka.4: 10–13.
Allie–Hamdulay S, Rodgers AL. (2005, May). Prophylactic and therapeutic properties of a sodium citrate preparation in the management of calcium oxalateurolithiasis: randomized, placebocontrolled trial. Urol. Res. 33(2): 116–24. https://doi.org/10.1007/s00240-005-0466-6; PMid:15871014
Chen YT, Hsuan SL, Jiann BP, Chou CC et al. (2013, Sep 23). Effects of sodium citrate on melamine;cyanuric acid mixture;induced urolithiasis in rats. Clin Chim Acta.424: 76–82. https://doi.org/10.1016/j.cca.2013.05.016; PMid:23727468
Coe FL, Evan A, Worcester E. (2005, Oct). Kidney stone disease. J Clin Invest. 115(10): 2598–608. https://doi.org/10.1172/JCI26662; PMid:16200192 PMCid:PMC1236703
Earlydectection, diagnosis and magement of kidney disease: Guidelines and recommendations (2002). Westwood: NKF: 21.
Fink HA, Akornor JW, Garimella PS et al. (2009). Diet, fluid, or supplements for secondary prevention of nephrolithiasis: a systematic review and meta;analysis of ran;domized trials. Eur. Urol. 56(1): 72–80. https://doi.org/10.1016/j.eururo.2009.03.031; PMid:19321253 PMCid:PMC2925677
Kato Y, Yamaguchi S, Yachiku S, Nakazono S et al. (2004, Jan). Changes in urinary parameters after oral administration of potassium-sodium citrate and magnesium oxide to prevent urolithiasis. Urology.63(1): 7–11. https://doi.org/10.1016/j.urology.2003.09.057; PMid:14751336
Lojanapiwat B, Tanthanuch M, Pripathanont C, Ratchanon S et al. (2011, Sep;Oct). Alkaline citrate reduces stone recurrence and regrowth after shockwave lithotripsy and percutaneous nephrolithotomy. Int Braz J Urol.37(5): 611–6. https://doi.org/10.1590/S1677-55382011000500007; PMid:22099273
Siener R, Glatz S, Nicolay C et al. (2004). The role of overweight and obesity in calcium oxalate stone formation. Obes Res.12(1): 106–113. https://doi.org/10.1038/oby.2004.14; PMid:14742848
Straub M, Strohmaier WL, Berg W et al. (2005). Diagnosis and metaphylaxis of stone disease. Consensus concept of the National Working Committee on Stone Disease for the upcoming German Urolithiasis Guideli; ne. World J Urol.23(5): 309–323. https://doi.org/10.1007/s00345-005-0029-z; PMid:16315051
Turk C (chair), Knoll T (vice;chair), Petrik A, Sarica K, Skolarikos A, Straub M, Seitz C. European Association of Urology. Guidelines on urolithiasis. (2012, August). Europеan Urology. 62(2).
Wagner CA, Mohebbi N. (2010, Nov;Dec). Urinary pH and stone formation. J Nephrol. 23(16): 165;9.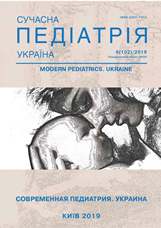 Downloads
Section
Original articles
License
The policy of the Journal "MODERN PEDIATRICS. UKRAINE" is compatible with the vast majority of funders' of open access and self-archiving policies. The journal provides immediate open access route being convinced that everyone – not only scientists - can benefit from research results, and publishes articles exclusively under open access distribution, with a  Creative Commons Attribution-Noncommercial 4.0 international license (СС BY-NC).
Authors transfer the copyright to the Journal "MODERN PEDIATRICS. UKRAINE" when the manuscript is accepted for publication. Authors declare that this manuscript has not been published nor is under simultaneous consideration for publication elsewhere. After publication, the articles become freely available on-line to the public.
Readers have the right to use, distribute, and reproduce articles in any medium, provided the articles and the journal are properly cited.
The use of published materials for commercial purposes is strongly prohibited.