Awareness of future parents about vaccination
Keywords:
vaccine, immunization, post-vaccination reactions, adherence, contraindications to vaccination, pre-vaccination examination, expectant parents, vaccination, young people
Abstract
Purpose - to assess the intentions of students of different universities to vaccinate their future children and the factors that influence their decision.
Materials and methods. A Google form with 20 questions was developed. The data were obtained from an online survey conducted among students who have not yet had children. The questions concerned the attitude to immunoprophylaxis, as well as information about the age, gender and occupation of the respondents (of particular interest are those who have or are obtaining a medical education).
Results. A total of 145 students took part in the survey, including 79.5% from healthcare and 20.5% from non-healthcare sectors. The majority of those who took part in the survey were female, aged 18 to 30. According to the data, after giving birth to children, 77.2% of respondents expressed a desire to invest in disease prevention and enjoy a full life, while almost 8% consider it appropriate to treat diseases that have already occurred, and more than 14% are undecided about medical tactics. In general, 81% have a positive attitude towards vaccination; 16% have a reservation, more than 2% are undecided, and almost 1% have a negative attitude. According to the attitude towards vaccination of their future children, five distinct parental groups were identified among the respondents: "unquestioning acceptors" - 57% of respondents indicated that they intend to vaccinate their future children with all vaccines available in Ukraine, 43.9% - "cautious acceptors" - will choose only mandatory vaccinations; 8.8% are undecided and slightly less than 2% are "refusers" from all vaccines. The first place among the main reasons for refusing to vaccinate children is the fear of adverse reactions and post-vaccination complications; the second place is distrust of the manufacturer and the third is caution because of so-called contraindications. The survey also found that when determining contraindications to vaccinating an unborn child, respondents would most likely listen to the opinion of the following specialists: pediatrician - 87.7%; immunologist - 56.1%; family doctor - 46.5%.
Conclusions. The level of awareness of vaccination among young people is generally satisfactory. There is no difference between doctors and non-physicians. To maximize protection of children from vaccine-preventable infections, pediatricians should effectively counsel parents on the benefits of vaccines and the risks of delaying or refusing vaccination. To increase understanding and benefit of vaccines among the general population and reduce vaccine hesitation/refusal, vaccine education should begin as part of a healthy lifestyle and disease prevention program long before university and continue after medical and non-medical training. Basic knowledge about vaccines should be included in the curriculum of not only medical but also non-medical universities.
The research was carried out in accordance with the principles of the Helsinki Declaration. The study protocol was approved by the Local Ethics Committee of the participating institution.
No conflict of interests was declared by the authors.
References
Abaturov OYe, Siedunova OV, Agafonova OO. (2015). Attitide of health workers to immunoprophylaxis and efficiacy of their health education activities regarding active immunization of the population. Zdorovia Dytyny. 1: 65-68.
Antonova NA, Eritzian KY, Dubrovskiy RH. (2014). Otkaz ot vaktsinatsii: kachestvennyiy analiz biograficheskih intervyu. Teoriya i praktika obschestvennogo razvitiya. 20: 208-211.
Boyarchuk OR, Mishchanchuk VA. (2020). Evaluation of influence factors on parents' adherence to the immunization. Modern Pediatrics. Ukraine. 5 (109): 19-23. https://doi.org/10.15574/SP.2020.109.19
Carrillo-Marquez M, White L. (2013). Current controversies in childhood vaccination. South Dakota Medicine. Spec no: 46-51.
Chernyshova LI, Lapii FI Volokha AP, Bondarenko AV, Stepanovskyi YuS, Hilfanova AM. (2019). Immunoprophylaxis of Infectious Diseases. Kyiv: Medycyna: 320.
Delgado-Gallegos JL, Padilla-Rivas GR, Zúñiga-Violante E, Avilés-Rodríguez G, Arellanos-Soto D, Gastelum-Arias LJ et al. (2021, Nov 26). Determinants of COVID-19 Vaccine Hesitancy: A Cross-Sectional Study on a Mexican Population Using an Online Questionnaire (COV-AHQ). Front Public Health. 9: 728690. https://doi.org/10.3389/fpubh.2021.728690; PMid:34900890 PMCid:PMC8661090
Gjini E, Moramarco S, Carestia MC, Cenko F, Ylli A, Mehmeti I et al. (2023, Jan-Feb). Parents' and caregivers' role toward childhood vaccination in Albania: assessment of predictors of vaccine hesitancy. Ann Ig. 35(1): 75-83. Epub 2022 May 6. doi: 10.7416/ai.2022.2521. PMID: 35532052.
Jain L, Vij J, Satapathy P, Chakrapani V, Patro B, Kar SS et al. (2021, Dec 15). Factors Influencing COVID-19 Vaccination Intentions Among College Students: A Cross-Sectional Study in India. Front Public Health. 9: 735902. https://doi.org/10.3389/fpubh.2021.735902; PMid:34976911 PMCid:PMC8714761
OON. (1989). Konventsiia pro prava dytyny. Rezoliutsiia OON No. 44/25 vid 20 lystopada 1989 roku. URL: https://zakon.rada.gov.ua/laws/show/995_021#Text.
Philip RK, Shapiro M, Paterson P, Glismann S, Van Damme P. (2016, Dec). Is It Time for Vaccination to "Go Viral"? Pediatr Infect Dis J. 35 (12): 1343-1349. https://doi.org/10.1097/INF.0000000000001321; PMid:27626913
Ukrainian Institute for Strategic Studies of the Ministry of Health of Ukraine. (2017). Annual report on the state of health of the population, the sanitary and epidemiological situation and the results of the health care system of Ukraine. Kiev: 458.
WHO. (2021). Vaccine efficacy, effectiveness and protection. URL: https://www.who.int/news-room/feature-stories/detail/vaccine-efficacy-effectiveness-and-protection.
World Health Organization. (2010). Global recommendations on physical activity for health. Geneva. URL: https://www.who.int/dietphysicalactivity/global-PA-recs-2010.pdf.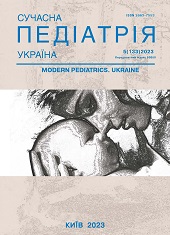 Downloads
Section
Original articles
License
Copyright (c) 2023 Modern pediatrics. Ukraine
This work is licensed under a Creative Commons Attribution-NonCommercial 4.0 International License.
The policy of the Journal "MODERN PEDIATRICS. UKRAINE" is compatible with the vast majority of funders' of open access and self-archiving policies. The journal provides immediate open access route being convinced that everyone – not only scientists - can benefit from research results, and publishes articles exclusively under open access distribution, with a  Creative Commons Attribution-Noncommercial 4.0 international license (СС BY-NC).
Authors transfer the copyright to the Journal "MODERN PEDIATRICS. UKRAINE" when the manuscript is accepted for publication. Authors declare that this manuscript has not been published nor is under simultaneous consideration for publication elsewhere. After publication, the articles become freely available on-line to the public.
Readers have the right to use, distribute, and reproduce articles in any medium, provided the articles and the journal are properly cited.
The use of published materials for commercial purposes is strongly prohibited.