Clinical case of pulmonary blastoma in a child as a disguise of community-acquired pneumonia
Keywords:
children, pneumonia, blastoma, pulmonology, diagnosis, treatment
Abstract
Currently, the problem of diagnosing pleuropulmonary blastoma in children remains relevant, because this pathology often runs under the guise of other nosologies, including pneumonia, and is extremely difficult to diagnose. Currently there are no pathognomonic clinical symptoms, specific diagnostic criteria for this disease, almost 60% of patients have nonspecific symptoms.
This article presents a rare clinical case of biphasic pulmonary blastoma in a child who was examined and treated at the Ivano-Frankivsk Regional Children's Clinikal Hospital Ivano-Frankivsk Regional Council. The main clinical manifestations, diagnosis and treatment of biphasic blastoma of the lungs in a child based on the observation of a 5-year-old girl who was hospitalized for acute abdominal pain, chest pain and cough. After clinical — laboratory and instrumental methods of examination, right-sided pneumonia and exudative pleurisy were diagnosed. The set of treatment measures did not give the expected positive effect, improving the patient's condition. Additional testing is required for suspected breast cancer. It has been established that the best method for verifying the diagnosis of pulmonary blastoma is multislice computed tomography with intravenous bolus contrast and immunohistochemical examination of the biopsy. The methods of treatment used in this case, including anti-inflammatory and polychemotherapy according to the scheme, the use of radical treatment at the National Cancer Institute in Kyiv — surgery right pneumonectomy with pericardial resection. The child is currently in stable remission for 4.5 years.
The described clinical case demonstrates the difficulty of diagnosing lung blastoma in children due to the lack of typical clinical manifestations.
The research was carried out in accordance with the principles of the Helsinki declaration. The informed consent of the patient was obtained for conducting the studies.
No conflict of interest was declared by the authors.
References
Carrasco R, Blanco M, Otero D et al. (2021). Classic biphasic pulmonary blastoma: importance of early treatment - a case report. Current Challenges in Thoracic Surgery. 3: 19. https://doi.org/10.21037/ccts-20-77
Jain TK, Singh H, Kumar R et al. (2020). Real Time F-18 FDG PET-CT-Guided Metabolic Biopsy Targeting Differential FDG Avidity in a Pulmonary Blastoma. Nuclear Medicine and Molecular Imaging. 54 (5): 261-263. https://doi.org/10.1007/s13139-020-00655-6; PMid:33088357 PMCid:PMC7560659
Leckey BD, Carney JM, Sun JM et al. (2019). Novel intronic DICER1 variation associated with pleuropulmonary blastoma in two siblings. BMJ Case Reports. 12 (1): e227391. https://doi.org/10.1136/bcr-2018-227391; PMid:30665929 PMCid:PMC6340604
Lewis JA, Petty WJ, Urbanic J et al. (2018). Cure of Oligometastatic Classic Biphasic Pulmonary Blastoma Using Aggressive Tri-modality Treatment: Case Series and Review of the Literature. Cureus. 10: 11. https://doi.org/10.7759/cureus.3586
Liu Y, Luo D, Du T et al. (2017). Clinical and pathology analysis of 1 case of adult pleural pulmonary blastoma. Medicine. 96 (50): e8918. https://doi.org/10.1097/MD.0000000000008918; PMid:29390280 PMCid:PMC5815692
Luo Z, Cao C, Xu N et al. (2020). Classic biphasic pulmonary blastoma: a case report and review of the literature. Journal of International Medical Research. 48 (10): 030006052096239. https://doi.org/10.1177/0300060520962394; PMid:33107372 PMCid:PMC7645427
Maojiang Y, Bing L, Zhang C et al. (2019). Classical biphasic pulmonary blastoma in a young woman: case report and review of literature. Int J Clin Exp Pathol. 12 (12): 4040-4400.
Nemeh F, Kuo A, Ross J et al. (2017). The Radiologic and Pathologic Diagnosis of Biphasic Pulmonary Blastoma. Journal of Radiology Case Reports. 11: 9. https://doi.org/10.3941/jrcr.v11i9.3153; PMid:29299105 PMCid:PMC5743140
Smyth RJ, Fabre A, Dodd JD et al. (2014). Pulmonary blastoma: a case report and review of the literature. BMC Research Notes. 7: 1. https://doi.org/10.1186/1756-0500-7-294; PMid:24885892 PMCid:PMC4026592
Van Loo S, Boeykens E, Stappaerts I et al. (2011). Classic biphasic pulmonary blastoma: A case report and review of the literature. Lung Cancer. 73 (2): 127-132. https://doi.org/10.1016/j.lungcan.2011.03.018; PMid:21513998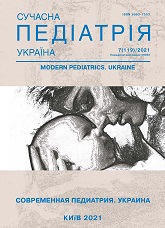 Downloads
License
Copyright (c) 2022 Modern pediatrics. Ukraine
This work is licensed under a Creative Commons Attribution-NonCommercial 4.0 International License.
The policy of the Journal "MODERN PEDIATRICS. UKRAINE" is compatible with the vast majority of funders' of open access and self-archiving policies. The journal provides immediate open access route being convinced that everyone – not only scientists - can benefit from research results, and publishes articles exclusively under open access distribution, with a  Creative Commons Attribution-Noncommercial 4.0 international license (СС BY-NC).
Authors transfer the copyright to the Journal "MODERN PEDIATRICS. UKRAINE" when the manuscript is accepted for publication. Authors declare that this manuscript has not been published nor is under simultaneous consideration for publication elsewhere. After publication, the articles become freely available on-line to the public.
Readers have the right to use, distribute, and reproduce articles in any medium, provided the articles and the journal are properly cited.
The use of published materials for commercial purposes is strongly prohibited.