Peculiarities of clinical course of Wilson's disease in children
Keywords:
Wilson's disease, children, chronic hepatitis, liver cirrhosis, course of the disease
Abstract
Purpose — to discover peculiarities of Wilson disease course in children dependently on the variant of liver affection.
Materials and methods. Anamnesis of the disease and clinical and paraclinical peculiarities of the course of the disease with consideration of liver affection severity have been studied in 50 children aged 5–17 years.
Results. It was estimated that in 52% of children the disease had a form of chronic hepatitis with minimal clinical symptoms, 44% of patients had liver cirrhosis with predominant signs of edematous and ascitic syndrome and 4% had fulminant hepatitis in a debut of the disease. Complicated family anamnesis was detected in 4% of patients. Syndrome of cytolysis predominated in patients with liver damage in the form of chronic hepatitis (р<0.05). Typical biochemical changes in cirrhotic patients were hepatocellular insufficiency with hypoalbuminemia and coagulopathy, hyperbilirubinemia and minimal hypertransaminasemia (р<0.05). Children with cirrhosis in contrast to patients with chronic hepatitis had reliably lower serum ceruloplasmin concentration and reliably higher excretion of copper with urine. Specific for Wilson disease Kayser—Fleischer rings were found out in 36% of patients only.
Conclusions. Wilson's disease in children is characterized by progressing course in the form of either chronic hepatitis or liver cirrhosis or, rarely, fulminant hepatitis. Clinical and paraclinical symptoms of the disease are estimated by the severity of liver affection and vary from a course with minimal symptoms in patients with chronic hepatitis to edematous and ascitic syndrome and hepatocellular insufficiency in patients with cirrhosis and fulminant hepatitis.
The research was carried out in accordance with the principles of the Helsinki declaration. The study protocol was approved by the Local Ethics Committee of all participating institution. The informed consent of the patient was obtained for conducting the studies.
No conflict of interest was declared by the authors.
References
Arioz C, Li Ya, Wittung-Stafshede P. (2017). The six metal binding domains in human copper transporter, ATP7B: molecular biophysics and disease-causing mutations. Biometals. 30 (6): 823-840. PMID: 29063292; PMCID: PMC5684295. https://doi.org/10.1007/s10534-017-0058-2; PMid:29063292 PMCid:PMC5684295
Beattie RM, Dhawan A, Puntis JWL. (2018). Paediatric Gastroenterology, Hepatology, and Nutrition Edited. By R Mark Beattie, Anil Dhawan, John WL Puntis, AkshayBatra, and Eirini Kyrana. 2 ed. Oxford Specialist Handbook. https://doi.org/10.1093/med/9780198759928.001.0001
Chang IJ, Hahn SH. (2017). The genetics of Wilson disease. Handb Clin Neurol. 142: 19-34. https://doi.org/10.1016/B978-0-444-63625-6.00003-3; PMid:28433102 PMCid:PMC5648646
Czlonkowska A, Litwin T. (2018, Sep 6). Nature Reviews Disease Primers article: Wilson disease. Nature reviews. Disease Primers. 4 (1): 21. https://doi.org/10.1038/s41572-018-0018-3; PMid:30190489 PMCid:PMC6416051
Dziezyc-Jaworska K, Litwin T, Czlonkowska A. (2019). Clinical manifestations of Wilson disease in organs other than the liver and brain. Ann Transl Med. 7 (2): 62. https://doi.org/10.21037/atm.2019.03.30; PMid:31179299 PMCid:PMC6531658
Hao Yu, Juan-Juan Xie, Yu-Chao Chen, Qin-Yun Dong, Yi Dong, Wang Niand Zhi-Ying Wu. (2017). Clinical features and outcome in patients with osseomuscular type of Wilson's disease. BMC Neurology. 17: 34. https://doi.org/10.1186/s12883-017-0818-1; PMid:28212618 PMCid:PMC5316220
Hermann W. (2019). Classification and differential diagnosis of Wilson's disease. Ann Transl Med. 7 (2): 63. https://doi.org/10.21037/atm.2019.02.07; PMid:31179300 PMCid:PMC6531651
Kucinskas L, Jeroch J. (2008, Oct 14). High frequency of the c. 3207C>A (p.H1069Q) mutation in ATP7B gene of Lithuanian patients with hepatic presentation of Wilson's disease. World J Gastroenterol. 14 (38): 5876-5879. https://doi.org/10.3748/wjg.14.5876; PMid:18855987 PMCid:PMC2751898
Merle U, Schaefer M, Ferenci P et al. (2007). Clinical presentation, diagnosis and long-term outcome of Wilson's disease: a cohort study. Gut. 56: 115-120. https://doi.org/10.1136/gut.2005.087262; PMid:16709660 PMCid:PMC1856673
NORD. (2021). Wilson Disease. Rare Disease Database. URL: https://rarediseases.org/rare-diseases/wilson-disease.
Palumbo CS, Schilsky ML. (2019). Clinical practice guidelines in Wilson disease. Ann Transl Med. 7 (2): 65. https://doi.org/10.21037/atm.2018.12.53; PMid:31179302 PMCid:PMC6531645
Pandey N, John S. (2020, Jan). Kayser-Fleischer Ring. In: Stat Pearls (Internet). Treasure Island (FL): Stat Pearls Publishing. Updated 2020 Jan 10.
Rukunuzzaman Md. (2015, Jun). Wilson's Disease in Bangladeshi Children: Analysisof 100 Cases. Pediatr Gastroenterol Hepatol Nutr. 18: 2. https://doi.org/10.5223/pghn.2015.18.2.121; PMid:26157698 PMCid:PMC4493245
Shribman S, Warner TT, Dooley JS. (2019). Clinical presentations of Wilson disease. Ann Transl Med. 7 (2): 60. https://doi.org/10.21037/atm.2019.04.27; PMid:31179297 PMCid:PMC6531646
Socha P, Janczyk W. (2018, Feb). Wilson's Disease in Children: A Position Paper by the Hepatology Committee of the European Society for Paediatric Gastroenterology, Hepatology and Nutrition. JPGN. 66: 2. https://doi.org/10.1097/MPG.0000000000001787; PMid:29341979
Tian-Jiao Ma, Gui-Lian Sun, Fang Yao, Zhi-Liang Yang. (2019, Sep 6). Wilson disease associated with immunethrombocytopenia: A case report and review of the literature. World J Clin Cases. 7 (17): 2630-2636. https://doi.org/10.12998/wjcc.v7.i17.2630; PMid:31559303 PMCid:PMC6745329
Uchaykin VF, Nisevich NI, Cherednichenko TV. (2003). Virusnyie gepatityi ot A do TTV u detey. Moskva: Novaya volna: 432.
Xie YZ, Zhang XZ, Xu XH, Zhang ZX, Feng YK. (1985). Radiologic study of 42 Cases of Wilson Disease. Skeletal Radiol. 13 (2): 114-119. https://doi.org/10.1007/BF00352081; PMid:3975658
Yoshinosuke Shimamura, Takuto Maeda, Yufu Gocho, Yayoi Ogawa, Kunihiko Tsuji, Hideki Takizawa. (2019). Immunoglobulin A nephropathy secondary to Wilson'sdisease: a case report and literature review. CEN Case Reports. 8: 61-66. https://doi.org/10.1007/s13730-018-0365-7; PMid:30255238 PMCid:PMC6361083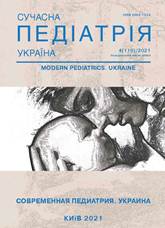 Downloads
Section
Original articles
License
Copyright (c) 2021 Modern Pediatrics. Ukraine
This work is licensed under a Creative Commons Attribution-NonCommercial 4.0 International License.
The policy of the Journal "MODERN PEDIATRICS. UKRAINE" is compatible with the vast majority of funders' of open access and self-archiving policies. The journal provides immediate open access route being convinced that everyone – not only scientists - can benefit from research results, and publishes articles exclusively under open access distribution, with a Creative Commons Attribution-Noncommercial 4.0 international license(СС BY-NC).
Authors transfer the copyright to the Journal "MODERN PEDIATRICS. UKRAINE" when the manuscript is accepted for publication. Authors declare that this manuscript has not been published nor is under simultaneous consideration for publication elsewhere. After publication, the articles become freely available on-line to the public.
Readers have the right to use, distribute, and reproduce articles in any medium, provided the articles and the journal are properly cited.
The use of published materials for commercial purposes is strongly prohibited.